Trip: Arctic adventure cruise around Norway's Svalbard Archipelago
Where is that? The islands lie roughly midway between continental Norway and the North Pole
How long does it take to get there? 3-hour flight from Europe (we flew from Copenhagen)
Duration? Just over a week – but it felt like a month!
Anyone who is thinking about going to the Arctic, I wouldn't wait.
Firstly, I want to share that this was the most emotional filming trip I've ever been on in my 15 years with Places We Go. Even when I was recording my voice overs for our two-part TV special, I couldn't get to the end without choking up; I'm still not exactly sure why. I think the truth lies somewhere between my awe of the place, the camaraderie of the people I met, and learning about how the region is being impacted by global warming.
We jumped on board a Chimu Adventures expedition that explores the Norwegian Svalbard Archipelago, a group of tiny islands in the very north of Norway, about a thousand kilometers from the North Pole.
It's just a 3-hour flight from mainland Europe to the island of Spitsbergen. One minute we're hanging out with the throngs of tourists in sunny and warm Copenhagen, the next we're smack bang in an entirely different world – cruising the icy waters of the Arctic; surrounded by snow-capped mountains, giant glaciers, and the magic of the midnight sun.
Touching down at the tiny airport in the administrative capital of Longyearbyen, I was immediately hit with the sense of silence. Even though travellers were milling around, I felt an immediate sense of calm.
The northernmost 'family community" in the world, Longyearbyen is home to around two thousand people. They are north of the Arctic Circle and experience 24-hour daylight in summer and 24-hour darkness in winter. And residents have to carry a weapon on them at all times in case a five hundred kilo Polar Bear strolls through town (one did two weeks before we arrived).
Within minutes of our arrival, I met local resident Katyn who was sitting on the side of the road with her four children selling beautifully painted rocks to us tourists. She'd been living in Longyearbyen for the past 8 years after moving from Germany, and worked as a historian at the local museum "for a life adventure" she told us with a smile.
 "I always feel calm here. There's just a magical feeling about this place. Although you always need to be alert, while it looks safe and organised, you can freeze to death just an hour from town if you get stuck, or if you encounter a Polar Bear without your weapon"
Before I knew it, we were being called to jump on board zodiacs to make the 2-minute journey from land to our waiting ship. As soon as we hit the water, I found myself laughing and celebrating the beginning of our Arctic adventure with people I'd never met. My face hurt so much from smiling. I know theirs did too. There's was already a sense of camaraderie just by being here.
Welcome to the Arctic.
I want to start by asking you to watch this 2-minute video that was literally filmed from about 6.30am on our very first morning.
Magic, isn't it?
There are some places in the world that you simply have to experience for yourself.
And this photo of a Polar Bear, taken on our very first morning, sums this part of the world up for me. Are you looking at the magnificent glacier that's been there for over 20,000 years, or the endangered Polar bear that's walking the ice below? Both are such iconic images of the fragility of the Arctic.
There are only 25,000 Polar Bears left in the world. Svalbard, which is home to around 10 percent of them, is considered one of the best places to see one.
The Adventure
Being an 'expedition', no two days were ever the same, and you really never knew what you'd be doing. We had a rough plan, that always included at least two activities off the ship each day (a zodiac landing or kayak adventure for example), but if something major happened (like when we spotted a Polar Bear), they would rearrange everything. The adventure and the wilderness always came first.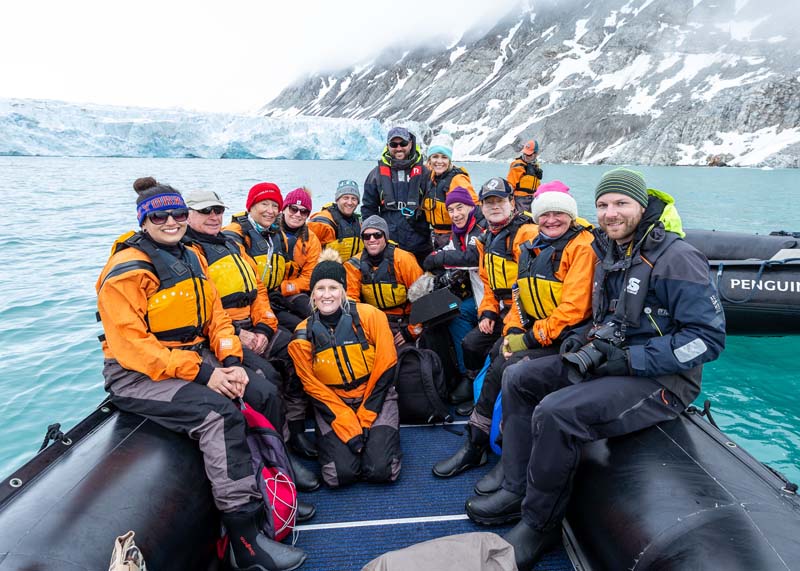 The Ship
An obvious question I get asked is What was the ship like? Total comfort. A 5-star food and dining experience where we got to know fellow travellers, and the staff couldn't do enough for us. By the time we would be back from breakfast our beds would be made. By the time we came back from our morning excursion, morning tea would be served.
The Expedition Team
The expedition team was first-class. There was a real mix of expertise – naturalist guides, geologists, biologists, historians – above all, a group of incredibly well-educated and like-minded people who love the wilderness. It wasn't 'them sharing with us'. It was more, "all of us" experiencing the beauty of the Arctic together.
"It's kind of crazy to still be on planet earth and be so far away from everything we think is important…from all the activity. And to just enjoy the quiet, out here gently gliding along in the zodiacs. I guess that's what attracts people to come to the edge of known life which is out here – south or north, out here is a lot more lovely and a lot less foreboding that you think it is. I feel so privileged to be here."  Steve. Naturalist Guide.
It was an extra special trip for the co-founders of Chimu Adventures Greg and Chad, as they were there celebrating the companies 15-year anniversary. The trip was filled with so many people who'd been to Antarctica with them before; including us (about 5 years ago). Both places are clearly polar 'experiences' yet so very different.
"The Arctic is gentle, you have to go searching for the wildlife – whereas Antarctica, the wildlife comes to you, it has a different energy – but both are "polar experiences" and the same polar feeling. And as soon as you return, it's like being dropped straight back in to the energy of the place.. there's always that same sense of calm" Greg, Chimu Adventures.
And I couldn't agree more.
Stay tuned for the rest of my Arctic adventure including the Glaciers, shore landings, my fellow travellers, and just how fragile and precious the Arctic environment really is. 
Tell us in the comments if you would love to tick the Arctic off your bucket list, or if you already have!
Photography and video thanks to Bruce Davis for Places We Go