There are so many holiday icons in the sunshine state of Queensland – destinations people return to year after year and for good reasons. The state is blessed with incredible weather year round, sparkling coastline, amazing hinterland, breathtaking islands and of course, 'that reef'.
But now and again I believe it's time to discover something new. Having been born and raised in Brisbane and having travelled a lot around the state, I truly thought that I pretty much knew the ins and outs. But recently I discovered a big hole in my thinking, a hole that is more than the size of Tassie….
Yes, it is still possible to explore an enormous region of Queensland that is devoid of the crowds, and have that feeling you are one of the first to discover it. The Southern Great Barrier Reef region spans around 300km of the Queensland coast and extends inland, beginning around 4 hours north of Brisbane, near the regional city of Bundaberg. Here I discovered you can truly have a unique and very personal experience, quite unlike anything else I have experienced in Queensland.
My own adventure in the Southern Great Barrier Reef began north of Bundaberg, near the town of Yeppoon. The gateway to the Capricorn Coast and only a hop, skip and short ferry ride from Great Keppel Island, Yeppoon is a revitalised, tropical city that is earning its place on the map. With a recently developed foreshore precinct complete with boardwalk, kids water park, open air stage, barbeque facilities and much more, visitors are drawn to the waterfront to enjoy a laid-back and atmospheric outdoor lifestyle.
My own accommodation was just south of town at the BIG4 Capricorn Palms Holiday Village. From the verandah of my villa, I could overlook the park and do some relaxing while enjoying the view of my fellow guests enjoying the facilities. Surrounded by palm trees, kids were having a blast on the double loop waterslide (where were these when I was a kid?), and people were making plans to attend the open air cinema at the park that evening. I absolutely love having entertainment like this at my doorstep.
My adventures in the region kicked off the following day, and can only be described as a voyage of absolute discovery. Here are my 4 secrets you simply must discover in the Southern Great Barrier Reef.
Kayaking Adventure around Great Keppel Island
Great Keppel Island is probably one of the more well-known treasures of the Southern Great Barrier Reef, but it still enjoys a very laid-back, peaceful and uncrowded life. Reached by ferry (I travelled with Keppel Konnections) in just 30 minutes, the locals here (there are about 25 permanent families on the island) are extremely welcoming, relaxed and proud of their little piece of paradise.
The largest of the 18 Keppel Island, Great Keppel Island is home to no less than 17 white sandy beaches and the fringing Great Barrier Reef protects the island, making the surrounding waters pleasantly calm.
It is the perfect place for a kayak adventure – I was itching to discover the beauty under the water, and Brett from Great Keppel Island Adventures told me he could get me to the very best spots.
Brett is clearly proud of this pristine environment which he loves for the climate, clean air, and of course, the ocean. Home to the stunning coral reef plus the marine life, Brett's days are never the same. As we paddled, he told me that yesterday he spotted some dugongs, and it was not uncommon to see whales in the winter. And of course, year round, there are the fish. Below us, huge schools of reef fish, coral trout, parrot fish and a groper or two frolicked, causing a mesmerising display of colour.
My tip is not to resist joining the sealife and throw on the snorkel for a little swim. You will be rewarded with an aquarium like world of pristine reef-life, absolutely magical.
Discover the Sandstone Wilderness at Kroombit Tops National Park
Not all of the action is on the Queensland Coast. In the hinterland, there is beauty to be found that is on par with anything else. And you will feel like you are so remote, that you are actually one of the first people to visit.
The Sandstone Wilderness region is larger than the entire state of Tasmania and has more national parks. I have a confession to make – I had actually never heard of it. But that's almost the beauty of it… It's a little less mainstream and everything you discover is a surprise.
Kroombit Tops National Park is one of its treasures and I joined Discover the Hinterland Tour's Harry in his 4WD vehicle for a guided exploration.
The experience had all the ingredients for adventure… breathtaking views, intrepid river crossings, unique wildlife, and of course, pristine and untouched wilderness. This region is a 4WD enthusiasts dream with a network of tracks taking you on countless adventures.
Our first stop was at the scenic lookout, where blue gums start to tower above us – this is the only place they actually grow in Queensland due to the elevation. We had yet to encounter any other person – I felt like we had the entire place to ourselves.
The lookout gives you a perspective of just how big this region is. As far as the eye can see, there are mountain ranges, rainforests, sandstone escarpments, palm trees blanketing the bottom of valleys – around 100 kilometres of pristine landscape.
And just up the road… a little history. The crash site of 'Beautiful Betsy' – originally a World War two B-24D Liberator Bomber aircraft that came to its demise here in Kroombit Tops in 1945 but wasn't discovered until around 50 years after.
Discover the Sandstone Wilderness on your own two feet
There is nothing quite exploring nature under the power of your own steam, surrounded by the sounds, smells and sights. And with a choice of 8 different walking trails in Cania Gorge National Park, I didn't need any further encouragement.
Cania Gorge is home to rich Aboriginal history, with indigenous ancestors documented to be inhabiting the land here for the last 19,000 years – their stories and legacies visible in freehand art on the sandstone walls.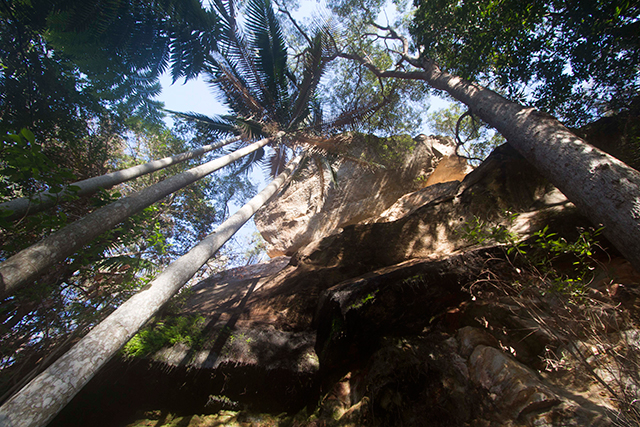 I took the bushwalk route to The Overhang, and we began the trek surrounded by rich vegetation. Passing lush fern covered pools, dripping rocks, towering eucalypts and of course, sandstone walls.
The walk is invigorating and mesmerising, and the culmination at The Overhang, a beautiful cave formed out of the bottom of a naturally eroded cliff, is the perfect, peaceful place to reflect on the surrounding environment and realise how small you actually feel within the scale that is around you.
Discover the dying art of Bullock Driving
Hands up if you know a farmer who works his land using only a humble bullock team, and no other modern machinery? I didn't either, thinking (like everyone else) that this was pretty much a practice that was done and dusted. Step in Rohan, from the Gleneden Organic Farm and Bullock Team, a property in the Gleneden Valley 160 kilometres west of Bundaberg that has been in his family for more than 100 years.
Wanting to sustainably regenerate the land Rohan believes had suffered from degradation over the years, and preserve its fertility for future generations, Rohan became a 'bullocky' and, along with a swag of other complementary skills such as blacksmithing, works the land with his animals without any environmental impact. It's very much a dying Australian art form, and Rohan has turned his now organic farm into a destination for visitors to watch and learn for themselves.
Guests camp on the property, are treated to Rohan's wife Fiona's billy tea, can get involved in some of the day to day work on the farm, and of course, enjoy the entertainment of Rohan's work with his 'team' of bullocks. They all have names, and yes, they actually do respond to him when he speaks to them!
As for me, well, I was keen to take a step back in time and happy to get involved in a few of the old techniques of yesteryear that Rohan still uses on the farm today… I took my turn at 'yoking' up a pair of bullocks and before long, I was out of breath. In the end, it was a little easier to step back with the other guests and simply watch Rohan doing what he loves, a cup of billy tea in hand and the sun going down over the beautiful Gleneden Valley around me.
Have you discovered the Southern Great Barrier Reef yet? Tell us in the comments!