Our adventure earlier this year in Canada with Travelmarvel is still firmly at the forefront of our memories. We have had such a wonderful response to our journey, both on TV and online, and are so thrilled everyone is enjoying it so much!
We have been asked many times 'what was it like?'. Answering this has very quickly shaped in our minds the expectations that people should have when planning a trip like this around Western Canada.
So we have put together our 'packing list for Western Canada'. On it are not the obvious items such as a camera and warm jacket. Instead, this list covers the things we think you need to bring in your heart and mind when visiting this bucket list country….
An appetite for the awe-inspiring
From the moment you journey out of cosmopolitan Vancouver and into the regional provinces of British Columbia and Alberta, prepare to be awed. Whether you are looking out of the panoramic windows of Rocky Mountaineer or your tour coach, Western Canada unfolds around you in a series of landscapes and wonders that never cease to amaze you.
From the Fraser Valley, a farming region nestled between the Cascade Mountains and the coast, full of agricultural and gold rush history (and the dramatic Fraser Canyon) to the Rocky Mountains themselves – a seemingly never-ending landscape of snowy peaks – it's hard to tear your eyes away from the scenery – it seems to never stop changing.
Blink and you might miss a stunning glacial lake, or towering rock walls framing an enormous rushing river. As you climb higher into the Rocky Mountains, stop to wonder at the adventurers who scale the peaks around you. Or how the First Nations people traversed the land on foot or by dugout canoe.
In Banff, find yourself gazing at Cascade Mountain, proudly oriented at the end of Banff Avenue and imagine what it would be like to see that view every single day. After arriving by gondola to the top of nearby Sulphur Mountain, look down upon the Bow Valley and Banff National Park (Canada's first National Park), all surrounded by towering mountains, the peaks of which are now at eye level.
Arrive at Lake Louise and try to keep your mouth from falling open as you set your sights on the emerald water, framed by majestic mountains and the iconic Fairmont Chateau Lake Louise perched at its shoreline. It may be frozen when you are there, in which case, imagine the ice skaters that take to the ice in the winter.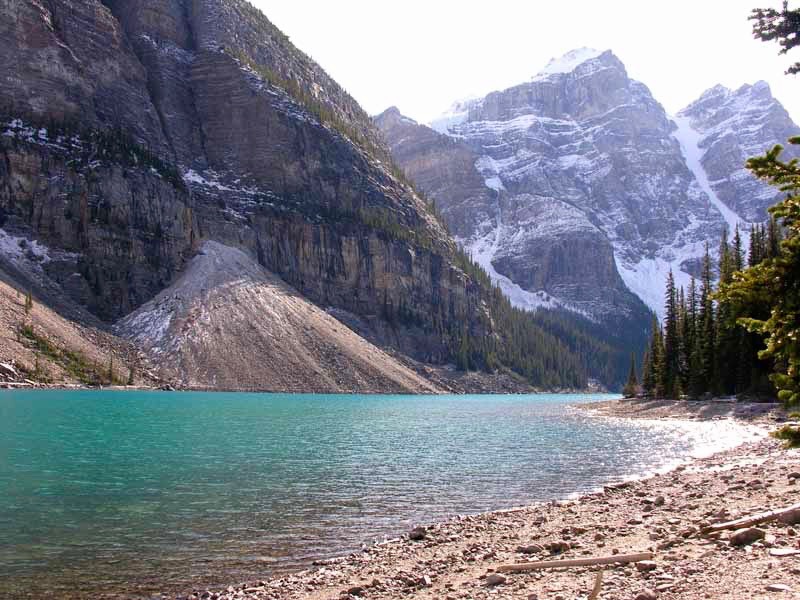 If Lake Louise isn't enough, a stop at Moraine Lake will definitely astonish you. This lake, of a particular shade of blue, will feel like déjà vu due to its popularity in iconic images around the world.
Drive along the Icefields Parkway to Jasper, and fill your eyes with views of glaciers, stunning blue lakes, valleys and gorges. Step onto the Athabasca Glacier and marvel at the natural wonder beneath your feet.
Try and get your head around the sheer scale of Jasper National Park and the beauty and wildlife it is so revered for.
And make sure when you get out into the pristine forest Canada is blessed with, such as the old-growth fir forest near Whistler, you soak up the beauty of giant trees that are up to 1200 years old.
Your sense of humour
There is no doubt that the scenery that will surround you in Western Canada will be seriously incredible. But the people you meet are almost guaranteed to be a laugh!
From the laid-back Canadians with a sense of humour akin to ours, to your fellow tour passengers who not only will share our Aussie wit, but will become your friends; there will be many, many laughs in the time spent on the tour coach, the Rocky Mountaineer, during group excursions and dinners, and those times you all group together for a drink in the hotel or a local bar.
On our recent Travelmarvel tour, it wasn't long before our tour group were up out of their seats in the SilverLeaf Service coach on board the Rocky Mountaineer to dance along to "Sweet Caroline". Following our tour director's choreography, the fun had us in stitches and was one of the first great ice-breakers of the tour.
The hosts on the Rocky Mountaineer were not only full of incredible information on our journey but also had a great sense of humour. You start out as passengers and leave as friends. They had us laughing the whole way with countless stories of what happens outside your window and also what has happened inside on previous journeys.
Our travelling group was made up of great people including four couples who travel around the world together every year. As soon as the tour started there was always fun in numbers… it was infectious to be around.
There were plenty of laughs when two of our group managed to lasso the target during our cowboy experience in Banff, when our local guide (an actual cowboy!) missed it! And of course, because there was still snow when we were travelling, there was the obligatory snowball fight along the Icefields Parkway, which we are sure the girls started!
Keen eyesight
Western Canada is all about the wild – those rugged mountains, pristine forests, glacial lakes… but what we keep our eyes peeled for the entire journey, is the wildlife!
The minute you leave the city behind, there are possibilities to spy Canada's famous wild animals – from bears, to moose, elk, mule deer, bison, badgers, beavers, porcupines and more. Travelling by Rocky Mountaineer train, or on the tour coach, everyone keeps one eye on the side of the road hoping to catch a glimpse of an animal or two, and Canada generally doesn't disappoint!
We spotted our first bear roadside in Jasper National Park on our evening wildlife tour. He casually wandered to a nearby tree and stood up against it to scratch his back, not caring that we were about 100 metres away watching.
Our Blue River safari rewarded us with yet more bear sightings as they casually wandered along the banks of the river.
And as we ventured out in the early morning to Vermillion Lakes, near Banff, a moose casually trotted out of the bushes in front of us and wandered down the road.
Keeping your eye out for moments like these becomes almost a game (if not a preoccupation) when on tour in Canada, and the triumphant moments when something is spotted live long in your memory afterwards.
Sense of adventure
You do not need to be a mountain climber, skier or kayaker to get the most out of Western Canada – you just need a sense of adventure!
Take it along when you watch for wildlife on a Bow River float trip in Banff, or when you are following in the footsteps of the original pioneers in a wagon ride to a cowboy cookout.
You'll need it on the exciting gondola journey to the summit of Sulphur Mountain for breathtaking views over Banff and the Bow Valley, and when you step onto the ice of the Athabasca Glacier after a thrilling journey on the famous Ice Explorer.
Adventure is everywhere in Canada, including on the Capilano Suspension Bridge in Vancouver, the whale watching cruise in Victoria, and the Tree Trek experience in Whistler.
The Harley Davidson sidecar tour through Jasper National Park will definitely up the thrill factor, and you can even take to the skies in Whistler, Victoria and Banff for scenic floatplane and helicopter experiences.
Your appetite
Western Canada's scenic highlights seem to get much of the glory however we promise you that your stomach will not feel left out on tour here!
From Canadian specialities such as maple syrup and wild salmon, to more exotic local dishes such as bison and venison, the Canadian's are hot on the food circuit and you will appreciate the walking that is done during the day to keep the kilos at bay.
In Vancouver, we highly recommend a visit to the Granville Markets – a public market offering the best local produce to be found. From speciality salmon and fish mongers to dedicated maple syrup stands that sell everything from the syrup itself to cookies and candy, this is the perfect place to discover Canada's gourmet goodies and buy some to take home.
In Banff National Park, you can find yourself transported by wagon to Three-Mile Cabin for a traditional cowboy cookout complete with hearty local steak and beans, and on board the 2-day Rocky Mountaineer, the five-star meals and snacks (and drinks!) are so incredible you will simply roll off the train at the end.
What would you pack on a tour of Western Canada? Tell us in the comments!
Offering the perfect balance of comprehensive inclusions and more free time, Travelmarvel provides premium cruising and touring experiences at exceptional value. Fun, exciting and hassle-free, Travelmarvel holidays are designed for those who seek organised  travel on their own terms. From river cruising to land and rail journeys, Travelmarvel offers memorable  experiences worldwide – from Europe to the Americas, Asia to the Outback.