Road trips around our beloved Australia are our favourite kind of holiday, it's no secret. We love the journey as much as the destination – the things you discover along the way, the freedom of stopping where you like and getting a real feel for different parts of our country.
It can also be an economical way to get away for family holidays. No competing with every other family for cheap flights, and battling the crowded airports. Simply load up the car and hit the open road. OR, if you can fly somewhere, hire a rental car and discover a new state!
We have been taking Charli on driving adventures since she was born, beginning with the adventurous journey up the Cape York Peninsula when she was 3 months old. As she has grown, and now that our little Harry (now one) has come along, we have learned many lessons on making a road trip as fun and entertaining for the kids as the adults.
Here are some of our favourite road trip destinations around Australia, and some of our best tips for making the journey as smooth as possible with the kids!
Great Ocean Road, Victoria.
The Great Ocean Road, along Victoria's western coastline, has to be one of the ultimate drives in all of Australia, and perfectly designed for a road trip. The actual road begins just out of the coastal town of Torquay, around an hour and a half from Melbourne, and runs for 243 kilometres along dramatic coastline, seaside villages and stunning forest to the town of Allansford.
The coastline is home to so many places to stop, stay and play, it's mind-boggling. From the bigger towns of Lorne, Apollo Bay and Anglesea where swimming, surfing, shopping and fantastic dining are all found, to the smaller and more peaceful hamlets of Kennett River, Skenes Creek, Wye River and Airey's Inlet where a quieter way of life is available tucked into the surrounding wilderness (and with their own treasures such as the Wye River General Store & Cafe and the Wye Beach Hotel).
The Great Otway National Park meets the sea and offers visitors incredible hikes through lush rainforest and off-road adventures.
And of course, as you weave your way further along the road you will set your eyes on those iconic pillars in the sea – the Twelve Apostles and their neighbouring sandstone formations which rise majestically out of the water.
From family-friendly swimming beaches, to top-class surf breaks, dramatic and rugged cliffs with amazing histories of shipwrecks, this coastal drive is one for the bucket list. You will find plenty of accommodation, activities, places to eat, shop and drink, along the entire route and you can continue the journey with a new adventure day after day.
Road Trip tip #1: Before you even leave, we recommend getting the car serviced if it's a long drive; topping up fluid levels, checking the tyres and making sure that the kids car seats are in good nick and will be safe and comfortable for the journey. Nothing is worse than having a break down while you are on the road – particularly with kids. They don't have much patience waiting for roadside assistance…
Adelaide to Kangaroo Island
Kangaroo Island is a fairly easy drive from Adelaide, just 1 hour 40 minutes down the road and you are in Cape Jervis, where the 45-minute-long ferry to KI leaves from. But it's definitely a drive that should be looked at as more of a road trip, because the journey from Adelaide winds its way down the Fleurieu Peninsula where there are plenty of stops worthy of your time!
Let's start with world-class wine region McLaren Vale. Where the rolling hills of the peninsula meet the turquoise waters of the Gulf of St Vincent, the region offers a smorgasbord of wineries, food, art and nature. With over 80 cellar doors including some of the world's oldest grape vines, Shiraz is the local speciality and time spent here on your road trip discovering the best of them is well worth it!
We love spending a few days along the coast here at a seaside town like Port Wilunga, and simply soaking up the bounty of things on offer. From surfing, fishing, beach 4WD'ing, and of course, wandering the local cellar doors, farmer's markets and providores for outstanding local produce.
It is then just a hop, skip and ferry ride across to Kangaroo Island where your car is your best transport around the island to visit all its attractions. From Flinders Chase National Park, (home to the Remarkable Rocks and a New Zealand fur seal colony), to the Kangaroo Island Wildlife Park, Penneshaw Penguin Centre, the many Conservation Parks, and of course, the abundance of local producers including honey, wine, cheese, lavender and eucalyptus oil!
Road Trip Tip #2: Before you leave, have a conversation with your kids about where you are going, how long the drive is, and what they are likely to see along the way. Involve them in the journey and invite them to ask questions. Give them brochures about where you are going and an idea of the activities you can do when you are there. Get them to start thinking about which activities they would like to choose. Engage them in the planning and they will be more excited on the journey.
Whitsundays to Cairns
This is a road trip we did last school holidays and it was outstanding for so many reasons. Starting in Airlie Beach, gateway to the Whitsunday Islands and home to so many tropical attractions, we dived right in (literally) with a boat tour to Whitsunday Island and Whitehaven Beach. In six hours we visited two snorkelling sites around Hook Island, walked up the Hills Inlet lookout for incredible views over Whitehaven Beach, and soaked up the beauty of one of the world's best beaches.
Back on the mainland, there is plenty to do around town. From swimming in the Airlie Beach Lagoon, to a spot of fishing, and simply wandering the shops with an ice-cream, it is a relaxing resort with a very chilled out vibe.
Just 45 minutes up the road to the north, and you will spy a very BIG MANGO on the Bruce Highway! This is your welcome to Bowen, home to the Kensington Pride or "Bowen" mango and one of our favourite little towns along the coast. Not only is Bowen famous as the home of the mango, it is also an incredible location for fresh seafood so a wander down to the harbour where The Bowen Fishermans Seafood Co. (and it's 'Birds Fish Bar') is located right next to where the fishing trawlers dock, needs to be on every itinerary. Stock up on fresh prawns or dig into some fish and chips right there on the spot.
The Sunday Farmers Markets are one of the best places to meet the locals and get your hands on their delicious local produce such as mango sorbet, locally produced sauces, pickles, and jams, and pick up some local craft.
Jumping back on the Bruce Highway after a few days on the Whitsunday Coast, and you will soon reach Townsville. This is where you can hop on the quick car ferry across to one of our favourite family-friendly destinations – Magnetic Island.
Blessed with 23 bays and beaches, this island is a fantasy for beach lovers, and inland, pristine national park offers a network of walking trails for all people that will help you explore the island, its resident population of koalas, and its World War II history.
Once you tear yourself away from 'Maggie', we suggest hightailing it for Mission Beach, with a brief detour to see Wallaman Falls – Australia's highest single drop waterfall.
Mission Beach will be a place you will never want to leave, a sleepy little beach village, with direct access to the Great Barrier Reef, and World-Heritage Tropical Rainforest. Try to make up your mind where you want to spend your time each day here. Snorkelling? Sunbathing? White water rafting? Or discovering the aboriginal culture in the incredible wet tropical forests. The choice is yours!
Cairns is just a couple of hours further north, which you can reach via a stop at Paronella Park for a great day out. In Cairns, the option are endless, and a busy airport can always lead you back home.
Road Trip Tip #3: Stock up on all the things the kids like and will happily play in the back of the car. Car puzzles, colouring books, sticker books, hand held games, story books, and of course, the trusty iPad/tablet. Load it up with new apps they can explore, plus their favourite or new TV episodes and movies, ensuring that nothing you install needs Wi-Fi. If you have two or more kids that will be sharing it, try to find some games that require multiple players. If they have a device each, invest in some kid's headphones so they are not competing with each other for sound. Don't give all the games and toys to the kids at the beginning of the journey – they will have exhausted them within the first hour. Give things to them one by one throughout the journey there and back, they won't be distracted by the other new toys and will spend longer with them.
Road Trip Tip #4: Bring plenty of supplies of their favourite healthy snacks and plenty of water to drink in water bottles that can't be spilled. Consider how sticky/messy the food is that you are bringing and try to bring non-gooey snacks. Bring lots of variety as boredom stimulates the appetite and they will try and cure it with food. Bring substantial options also, like sandwiches or a healthy slice, in case you aren't near a suitable place when it's time for lunch or dinner. Bring spare zip lock bags for leftovers, clips for open bags of snacks and an ice pack to keep drinks cool.
Sydney to the South Coast
The South Coast of NSW is high on our list when it comes to road trip destinations. There are so many things to see and do, how can you possibly just visit one? Our time here is always spent on an itinerary of highlights, beginning with the drive south from Sydney, which takes you over the amazing Sea Cliff Bridge towards Wollongong.
One of the first stops we always make is in the seaside town of Kiama. This is the ultimate example of where rolling farmland meets amazing coastline and the community seems to be made up of passionate local producer's intent on filling your belly with local gourmet goodies! From cheeses, to organic vegetables, to wine, olives, chocolates, tea, coffee and more, make sure you allow enough time on your journey to visit a few of them!
We love to stay at Easts Beach, and it is perfectly located to jump on the Kiama Coast Walk, a 22km walking trail along the dramatic coast line. We also love to visit the famous Kiama lighthouse and the epic blowhole – kids absolutely love this!
Further south from Kiama, one of the absolute highlights of the South Coast is Jervis Bay. With the whitest sand in the world and a protected marine reserve that is home to a population of bottle nosed dolphins, Jervis Bay ticks all the boxes for an unspoiled paradise.
Spend your time stand-up paddleboarding on one of the protected inlets of the bay, jump on one of the many coastal walking tracks, head out on a dolphin or whale-watching cruise, or simply relax on the astonishing beaches, Jervis Bay is the ultimate beach holiday destination.
And to end your road trip, we love the towns of Narooma for the incredible seafood (it is located along the oyster trail) and inland neighbour, historic Tilba Tilba – which is like a little step back in time and a fantastic place to spend a day learning to make cheese, or sampling the local fudge!
Road Trip Tip #5: Sitting still for long periods of time can be hard for kids. Schedule regular stops for a stretch and toilet break. Try and plan the drive so you will be in a town for certain times such as lunch. Or pack a picnic and lay out a blanket at a local park you pass to let the kids run around or burn energy on a playground.
Best of the South West
The South West of Western Australia has to be one of the most idyllic corners of our country. With some of the best beaches in the world, top-class wineries, pristine wilderness areas and charming locals, we love to escape here for an amazing road trip whenever we can.
One of the first stops on your drive south from Perth is Bunbury, blessed with beautiful beaches, a famous dolphin population, and gateway to the Geographe wine region. A little further south is one of our favourite places on the trail – Busselton. You can't miss the fun train journey down the world's second longest timber jetty – 1.8 kilometres out to sea! Better yet, once you get to the end, you can descend 8 metres under water to the Underwater Observatory to view the reef that has formed beneath the jetty, attracting more than 300 species of marine life.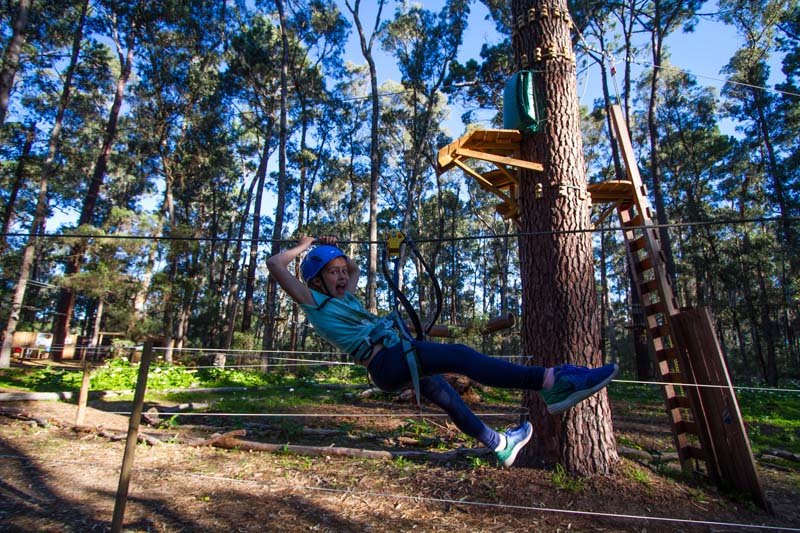 The beaches here are sublime, as is the lifestyle which is relaxed and perfect for holidaymakers. But it's not all about the coast – inland are some of the most unique and pristine forests in the world and one of our favourite ways to explore it is at Forest Adventures –an incredible course of activities set high among the trees of the rare Tuart Forest, including flying foxes, Tarzan ropes, base jumps, suspended bridges and more!
Of course, one of the highlights on a tour of the South West has to be the Margaret River region. Just a little further south from Busselton and you are in the heart of an area that is so famous for its surf beaches, ancient caves, and of course, world-class wine.
Spend your days dropping into cellar doors, lazing over long lunches, walking along spectacular beaches, canoeing Margaret River, and exploring some of the 150 caves that lay beneath the surface of Leeuwin Naturaliste Ridge.
Once you have soaked up all there is to offer here, head further south, stopping at Cape Leeuwin Lighthouse, and around to Albany – where the whales come to play. Explore the Anzac History here in this beautiful seaside town, and discover how a town that operated the last whaling station in Australia, has now come to be so famous as a town that conserves these gentle giants. Hop on a whale watching cruise and watch the migrating humpbacks frolic in the waters, you can even see them from the beach!
Road Trip Tip #6: A car trip packed with the whole family can be noisy enough – don't add to it with the noise of your car! Goodyear's new EfficientGrip Performance SUV tyre is specially designed for a more comfortable and quiet ride, every time. The innovative QuietTred Technology has been designed for optimal quiet performance and reduced cabin noise. Paired with shock-absorbing cushion that reduces tyre vibrations for a smoother drive, and innovative grip in wet road conditions, you are not only making the ride a quieter one, but also one that's better in the wet.
This post was brought to you by Goodyear's new EfficientGrip Performance SUV tyre
What are your favourite road trip destinations? Tell us in the comments!