If you were sitting on the international space station last night, you might well have seen a colourful glow coming straight from the Pacific Ocean, and, perhaps even a smile coming from the ever-joyful island of Taiwan.
We're on the island right now for the Taiwan Lantern Festival; not even 12-hours have passed since we were in the middle of it, and I still feel like I'm in a bit of a dream.
I have every reason to have been better prepared for how overwhelmed I felt. All the facts were there. Now in its 30th year, it's the biggest lantern festival in the world, celebrating the end of the Chinese New Year. Thousands of lanterns are masterfully created by artists from all over the world, and the event attracts an astonishing 10 million people over two weeks.
I knew all that. But still, as soon as we arrived and the sun started to set, it was like I was involuntarily taken back to when I was five years old, where life was about twinkling fairy-lights and playing dress-ups with my sister. It seduced the child within, and I was swept away.
Every year the festival is held in a different town – this year, the honour went to the county of Pintung, in Southern Taiwan. This is the first time the festival has been held on the water, on Dapeng Bay. It made for a spectacular backdrop, with a giant blue fin tuna representing the local industry.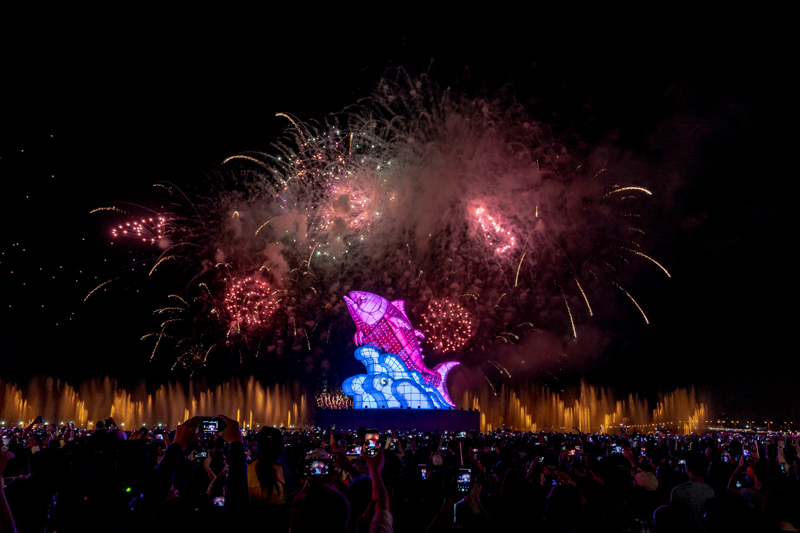 As the lanterns started to glisten, and the sound of Taiwanese drummers reverberated across 42 hectares of land, I had a lump in my throat – I don't even know why. Perhaps it was the sight of the lanterns that were handcrafted by school children across Taiwan, that connected with my 5-year old self.
Fireworks lit up the night-sky, trumpeters proudly kicked off celebrations, and us tourists seemed to hurry to try and "see it all"; but as soon as I saw the full scale of what was on show, I slowed down. it's an impossible task.
I was captivated by "Integration for You and Me" – a 15-metre figure of a new immigrant. Built by international artist Wang Wen-Tzu. It has an intertwined steel architecture and 200 oyster shells strung together to display the power and beauty of cultural diversity from new immigrants just like the Goddess of the Sea.
And finally, the lanterns that we called the pyramids. They in fact represent "mountains and oceans raised to peace and joy". It represents the mountains of Taiwan, and the sunrise hitting the mountains, along with their reflections in the sea.
Sums up Taiwan for me, "raised to peace and joy". Taiwan is an island filled with beautiful mountains, and an ancient wisdom from travellers that first settled here. Shouting out to the world, to come and see.