The Kimberley is one of Australia's last frontiers. A vast wilderness region in the far north west, known for it's rugged landscapes, harsh conditions and exceptional beauty, it remains largely undiscovered due to its reputation for being a place that only true adventurers dare to tackle.
We have been there on three occasions. We try to find an excuse to return for every series of Places We Go, as there are just so many stories to be told, treasures to discover and amazing people to meet that we are called back every time.
And it is not just the domain of the bravest of travellers. There are in fact many ways every average Joe can experience the holiday of a lifetime in this remote paradise. Here are a few of our best tips to survive the Kimberley.
Organise a group tour.
Small group adventures are operated by a number of companies in the Kimberley.
With custom built 4WD vehicles, knowledgeable and passionate guides and pre-arranged accommodation… you don't need to worry about a thing and you'll be happily bumping your way along the Gibb River Road, or laying your head on a soft pillow in a stylish wilderness tent before you know it.
Not keen on driving yourself?
Avoid the worry off four-wheel driving some of Australia's most notorious bush tracks and fly everywhere.
Reputable local aviation companies in the Kimberley offer air transfers that enable you to fly or helicopter to some of the most incredible icons in the region such as the Bungle Bungles and Mitchell Falls, and the bonus is you get to see everything in between from the air. This option is also a great one if you are short on time.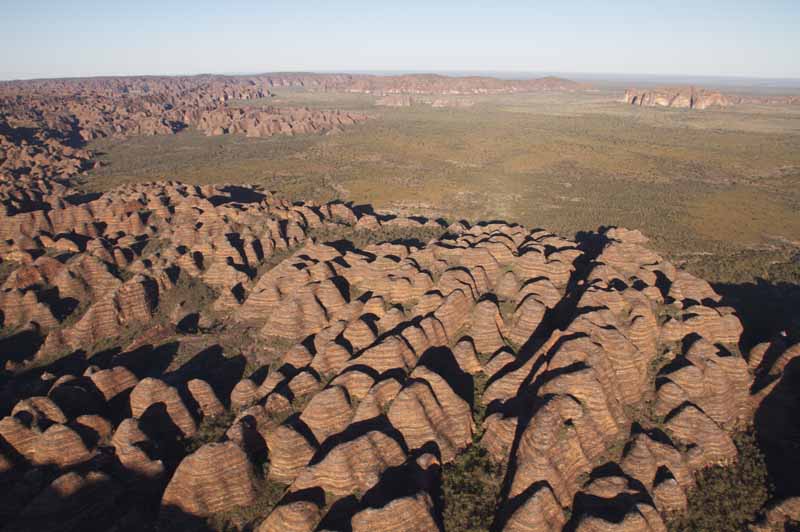 If you are a self-driver, there are so many ways to make your adventure more comfortable. Book a tent at one of the established wilderness camps along the way.
Strategically located near some of the best attractions such as Bell Gorge, Mitchell Falls, El Questro and the Bungles, these camps have stylish eco-tents with queen beds and soft linen, and incredible home cooking you can enjoy with a vino or two at night.
Some of the best parts of the Kimberley are easily accessed in a normal vehicle.
El Questro Wilderness Park is only an hour from the gateway town of Kununurra.
With a range of different accommodation options, and activities galore, this million-acre property is the perfect introduction to the Kimberley, without much of the effort.
Explore early in the morning and later in the afternoon.
Time your day to avoid the heat of the midday sun, and rise early with the birds. But if you do get caught in the heat, there is usually a natural swimming hole around where you can cool off – just check for freshwater crocs first!
Drink water. And then drink more water.
We can't stress this enough!
Do your research on the history and heritage of the region.
There are some incredibly rich indigenous stories here, and every place you stop will be made that much better with some basic knowledge. One of our favourite stories is the tale of Aboriginal bushranger Jandamarra, who used the incredible Tunnel Creek as his hideout.
Finally, start or finish your adventure with a few days in Broome.
This is not necessarily a survival technique. We just really think that Cable Beach is a must-do!