We're so happy to welcome travel photographer Marcus Baldwin to Places We Go this month! A real traveller at heart, he also happens to take amazing photographs wherever his journeys take him across the planet.
When we asked Marcus what he loves about taking photos on the road he told us, "I love arriving into a new city, checking into my hotel, grabbing the camera gear and heading off into random directions to find the city and its people. Whichever way the tourists are going, I go in the opposite direction. The most joy comes from when you find that one shot."
And now we're very excited to share Marcus' amazing photographic journey through Cuba with you – and there's definitely more than one great shot here! Enjoy getting to know the newest member of the PWG family as you meander along Cuban streets through Marcus' lens and his insights to this fascinating country…
Propaganda

I can't say that I'm a believer in Castro's ideals however this campaign art splashed across the country is mesmerising. This iconic imagery of rebel leaders Che Guevara, Fidel Castro and Camilo Cienfuegos is a common site across the decaying walls of Cuba. I particularly love this shot with the morning sun and the modern day cubans in their cool denim, singlets and trainers with the background of the decrepit city and the oversized typography and stencil wall art. Like all Cubans, I found myself drawn to all things Fidel & Che.
Cafe Cuba
This is one of my favourite photos from the trip. On a serious note, this is a government run cafeteria. Every day, three times a day, people line up at this hole in the wall cafe for free bread and milk. There are thousands of free food centres across Havana city. For the past 50 years since Castro's rule it has been this way, but up until recently, for the first time the government has allowed private business to open up. The times they are a changin' in Cuba! This image makes me think about the different generations of Cuba. Think about what the little old lady at the front has seen compared to the young woman at the back.
Crusin' Cuba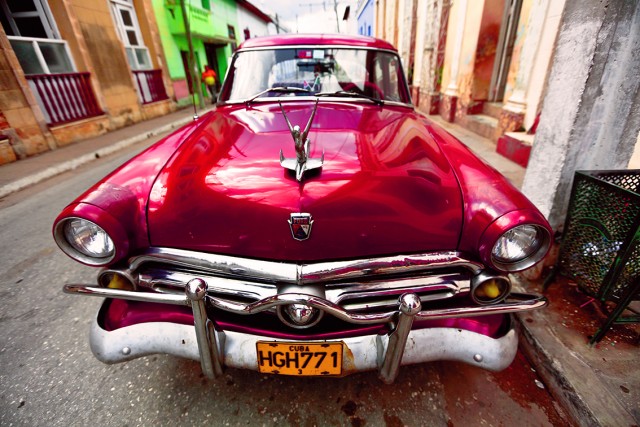 Cuba has the largest collection of classic cars in the world with over 60,000 pre-1960 American cars all privately owned by generations of Cubans. I'll never forget the image of flying through the clouds on Air Cubana for the first time, hovering over Havana and seeing the vintage cars driving through the streets. Jump in your time machine and head back to 1960. One of the best days I had was hiring a classic 1957 Chevy and driving 8 hours across Cuba to Trinidad through the tobacco fields.
Bon Bon
I met Bon Bon on one of my walks through the back streets. He represents the cool street style of the new breed of local Cubans. He's interested in the outside world – fashion and pop culture. A dance instructor in Havana, he took me on an underground journey through the late night salsa clubs playing 90's music (Whitney Houston and Boys to Men), guys on one side and girls on the other, just like the high school dances back in the 50s; secret local hangouts that you would only find by meeting people on the street. Local underground cigar dealers offering a quarter of the price for the famous Cuban cigar Cohiba. Cuba is all about having a good local tour guide. Bon Bon was the reason I came to Cuba. From a photography point of view I love the contrasting colours of the blue and yellow singlet. I shot this on my favourite lens – fixed 50m at 1.4.
Mother's Day
I was lucky enough to be in Havana on Mother's Day, which was a huge celebration and party on the streets. All mums and daughters were on the street dancing in circles. This lovely daughter and father invited me in for cake and to dance with the rest of the family.
Meanwhile the men play backgammon on Mother's Day.
Colours of Cuba
The most exciting part for me as a photographer was searching the streets for colour. Not in many places in the world can you find walls painted with turquoise hues, peach roofs and bright yellow typography and branding. This was one of my favourite bars to hang out in Havana.
Trinidad
This is a pretty standard streetscape in old town Trinidad. Orange, pink and lime villas with rooftops. I seriously could have lived here. Trinidad was a nice change from the hustle and bustle of the two million people living in Havana. In Trinidad I rented a casa particular (Shared House) with a lovely family. It's the best way to travel in Cuba rather then the government owned hotels.
Yoel (pronounced 'YO L')
YO L was my super cool tour guide in Havana. My tip is to see the city by bike. At around $8 a day which is the cheapest option. Because of so much traffic with the heavy 'American yank tanks' and the busy streets, its best to be able to cut around corners on a tricycle (rickshaw). YO L had broken English, however he knew all the famous sites, as well as the best photography locations and underground areas off the tourist trail to go.
La Bodeguita Medio
Possibly the most famous bar in Cuba – Ernest Hemingway hung out here while writing his classic novels. You can see all the signatures on the wall from people around the world with their messages. Not to mention the Cohiba cigars and Mojito's in the foreground (La Bodeguita lays claim to being the birthplace of the Mojito).Of course, we couldn't let Marcus get away without telling you a little more about the man behind the camera – plus his best Cuban travel tips!
How did you get into travel photography?
That's a big question. I guess it's been a very long journey. From a travel point of view, my family has been the biggest influence. As a 7 year old in the mid 80's I was lucky enough to travel internationally with my parents, brother and sisters into South East Asia. Travelling through cities like Bangkok and Hong Kong at such a young age had a huge influence on me. Everything was so different from the little farming town I grew up in country NSW. I remember being blown away by the amount of people in Bangkok and all the oversized golden Buddhist temples, not to mention the famous monks and the floating markets.
I still have all my photos from that first international trip on slide film. Later on I got the travel bug from my older brother. He was always taking off on 6 months journeys through places like Peru, Bolivia and La Paz. I once remember getting a postcard from him from a place called Oludeniz in Turkey (I couldn't believe there was an actual place called Turkey!). I visited Oludeniz last year, 20 years after I got that postcard. Still my most favourite beach in the world.
From a photography point of view I studied here in Melbourne, however I've felt I've learnt the most from just 'taking photos' and not spending too much time reading online manuals. My first real travel photography journey was to Burma and Cambodia. Carrying camera gear into those countries 13 years ago taught me a lot. In terms of how to approach people and just taking time to find the right shots. Nothing like learning on the job.
What kind of feel do you seek to create in your photos?
Street photography with an edge. Interesting faces, bright colour combinations and dynamic architecture. I love people in their environment and finding the underground of a city.
How did you like Cuba? And the locals?
Cuba was a dream trip come true. It had everything I imagined. Riding in vintage cars and hanging in bars listening to music are probably my two favourite things to do. The people are incredible. It's actually the safest country in the Americas. I had so much joy walking down the streets at any time of the day hanging with the locals, being invited into their homes, drinking sangria, playing backgammon and dancing in the street.
What are your best 3 tips for experiencing the 'real' Cuba?
1. Havana – Do the salsa dancing, smoke the cigars, drive the vintage cars but take time to walk the back streets and meet the real people of Cuba.
2. Trinidad (not the country!) – Great little place in central Cuba. A world heritage site. A real time warp. Away from the hustle and bustle of Havana. Go back further in time to see how real Cuban's lived pre-revolution.
3. Last but not least. Ca$h – Don't take cards because they don't work. USA has an embargo against Cuba so no VISA or Mastercard. You need Euros and you must exchange to Cuban Convertible pesos at the airport. And don't be like me and forget your European adapters. Not fun running out of camera battery 5 days into a 10-day trip in Cuba!
See more of Marcus' stunning Cuban photos over on our Instagram.

So, who feels like jumping on a flight to Cuba now? Or if you've been here too, we'd love to hear your best Cuban travel tip?